Performers
Nuno Pinto – Clarinet (Portugal)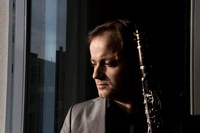 Nuno Pinto studied Clarinet with Saul Silva, António Saiote, Michel Arrignon and Alain Damiens in Portugal and France. He also attended master-classes led by such clarinetists as Guy Dangain, Walter Boeykens, Howard Clug, Robert Fontaine and Alois Brandhofer.
Nuno Pinto has dedicated much of his work to chamber and contemporary music, having worked with many musicians and ensembles. He is founding member of such chamber music ensembles as Camerata Senza Misura, Trivm de Palhetas e Clarinetes Ad Libitum as well as member of the Sond'Ar-te Electric Ensemble and OrchestrUtopica. He also creates a piano and clarinet duo with Elsa Silva.
As soloist and member of chamber music groups he participated in premiere performances of more than one hundred new works by sixty composers, and is dedicatee of works by Cândido Lima, Luís Tinoco, Sérgio Azevedo, Ricardo Ribeiro, Telmo Marques, Virgílio Melo and Miguel Azguime. Nuno Pinto was soloist at the Oporto Classic Orchestra (Orquestra Clássica do Porto), Orchestra of the North (Orquestra do Norte), OrchestrUtopica, Oporto Soloists (Solistas do Porto), Cascais e Oeiras Chamber Orchestra, Filarmonia de Gaia, Musicare Chamber Orchestra, Artave Orchestra and European Medical Students Orchestra. He also collaborated with the Gulbenkian Orchestra, Portuguese Symphonic Orchestra and Oporto National Orchestra.
Nuno Pinto participated in various international music festivals in such countries as Portugal, Spain, France, Germany, Áustria, the UK, Italy, Slovenia, Hungary, Poland, the United States, Perú, China, South Korea and Japan.
In 2006, together with the Clarinetes Ad Libitum Ensemble, he recorded a CD entitled "Contradanza", in 2007 with Camerata Senza Misura he participated in a film by João Botelho, "A Terra antes do Céu" and recorded a CD, "Torga – Retratos e Paisagens". In 2008 he recorded two CDs – one dedicated to solo clarinet works by Portuguese composers and the other with music by Robert Schumann for clarinet and piano. He also took part in the recording of "Our Secret World", which Kurt Rosenwinkel made in 2009 with the Matosinhos Jazz Orchestra.
Nuno Pinto, a Buffet Crampon and Rico artist, is Clarinet and Chamber Music professor at the Oporto Superior School of Music and Performing Arts.
Franziska Schroeder - Saxophone (Germany/UK)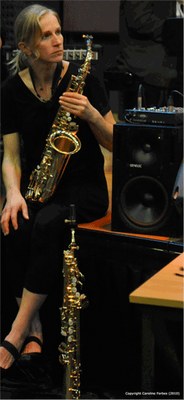 Franziska is a saxophonist and theorist, originally from Berlin/Germany. She received her saxophone training in Berlin and Australia where she graduated with a Bachelor of Music Honours degree in saxophone performance and the University Medal in 1998.
Franziska then pursued her saxophone training with Marie Bernadette Charrier from the Conservatoire Supérieure in Bordeaux.
In 2006 Franziska was awarded a PhD from the University of Edinburgh for her research into performance and theories of embodiment. She has since written for many international journals, including Leonardo, Organised Sound, Performance Research, Cambridge Publishing and Routledge. She has published a book on performance and the threshold and an edited volume on user-generated content for Cambridge Scholars.
In 2008 Franziska was the Artistic Director for the Roots Ensemble at the International Computer Music Conference in Belfast. In 2009 she was invited to perform for the opening of the AHRC Research Centre for Musical Performance as Creative Practice (CMPCP) at the Cambridge Concert Hall. Franziska has performed with many international musicians including Joan La Barbara, Pauline Oliveros, Stelarc, the Avatar Orchestra, Carin Levine, Chris Brown, Tom Arthurs and Evan Parker.
With her trio FAINT Franziska released a CD of Improvised and Electroacoustic Music in 2007, featuring Pedro Rebelo (piano and instrumental parasites) and Steven Davis (drums), and a second CD on the creative source label with Portuguese improvisors in 2009. In 2011 she released a recording on the SLAM label with a semi-autonomous technological artifact, guitarist Han-earl Park and saxophonist Bruce Coates (www.io001b.com/sounds/slamcd531).
Franziska has been an AHRC and a RCUK Research Fellow at the Sonic Arts Research Centre, Belfast and is now a Lecturer at the School of Creative Arts, Belfast, where she coaches 3rd year recitalists and MA performance students.
For forthcoming concerts and publications visit: www.sarc.qub.ac.uk/~fschroeder/
Filipe Quaresma – Cello (Portugal)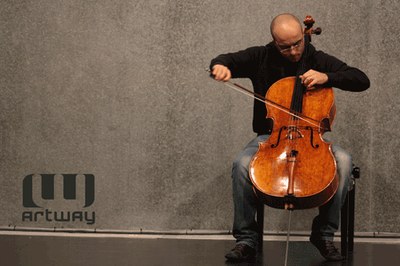 Filipe studied with David Strange and Mats Lidstrom at the Royal Academy of Music in London and with Natalia Gutman at Scuole di Musica di Fiesole, Italy. He also attended several master classes with Eliaz Arizcuren, Márcio Carneiro, Robert Cohen, Colin Carr, Jian Wang, Anssi Karttunnen, Zara Nelsova and Frans Helmerson, among others.
He was a member of the European Union Youth Orchestra and played as a guest musician in the London Symphony Orchestra, BBC Symphony and the London Sinfonietta, with whom he performed in the most prestigious European theatres.
He obtained first prizes in various national competitions, and was a scholarship student of the Calouste Gulbenkian Foundation, Royal Academy of Music and Suggia Scholarship. In 2010 he obtained the prize Valter Boccacini of Scuola di Musica di Fiesole.
Filipe Quaresma, in addition to maintaining an intense activity as a soloist, is first cello of the Baroque Orchestra of Casa da Música, Oporto and cellist of Darcos Ensemble. Collaborates regularly with the Remix-Ensemble, Casa da Música, Oporto.
In 2010 Filipe was appointed an Associate of the Royal Academy of Music, London. Filipe Quaresma is a cello and chamber music teacher at Escola Superior de Música e das Artes do Espectáculo, Oporto, Portugal.
http://www.artway.pt/filipe-quaresma.html
António Augusto Aguiar – Double Bass (Portugal)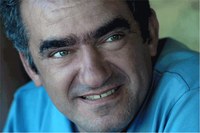 After his education at the Escola Superior de Música do Porto with Florian Pertzborn, he compltd a  Masters in Performance MMus from the Royal Academy of Music in London with Duncan McTier.
He received the Major Prize "Special Foundation Award" in addition to the diploma "Licenciate - Double Bass teacher. In 1999 he was the winner of  "Manlio & Selma Di Veroli Double Bass Prize".
Principal Double-Bassist of the Remix Ensemble since its foundation in 2000, António recorded about ten CD's dedicated to contemporary music. He is also a member of the chamber music group "Camerata Senza Misura", with which he has recorded the CD "Miguel Torga - retratos e paisagens" (Numérica label).
Since 1992 António Aguiar has developed a strong interest in Jazz, playing in the "Orquestra de Jazz de Matosinhos" for 5 years. He has participated in CD recordings of " A Lenda" by Carlos Azevedo, "Encomenda" of the Quinteto de Mário Santos, "Narsad Suite" by Luís Lapa, "Ad Libitum" for Solo Double Bass, "Raku" by Hugo Danin Trio and "Nuvem" by Mário Santos Quartet.
His composition "Pandora" (Improvisation) was performed by Remix Ensemble at Casa da Musica (Porto), Azores, Clairemont Ferrain (France) and at Huddersfield Contemporary Music Festival (UK).
António is a Professor at the Escola Superior de Música e das Artes do Espectáculo in Porto. He is also pursuing a doctorate at the Universidade de Aveiro on the subject "Improvisation, form and memory".
www.myspace.com/antonioaugustoaguiar
Nuno Aroso – Percussion (Portugal)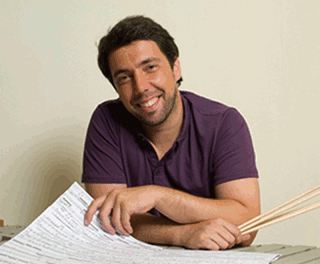 A percussionist dedicated to contemporary creation, Nuno Aroso was born in Porto in 1978. 

His solo career has taken on a fundamental role in his artistic life. Strongly focused on the exploration of new techniques, renewed instrumental resources and the scenic aspects inherent in percussion performance, Nuno Aroso has actively collaborated with numerous composers front the most varied aesthetic fields and parts of the world, resulting in the growth of personal and idiosyncratic repertoire, contributing simultaneously to the development of percussion as an area of instrumental performance.

Having completed a percussion course The Professional Music School of Espinho, Nuno Aroso entered the Superior Music School of Porto. He completed his degree in 2001 with a score of 20/20 in the final recital. In 2003 he began his specialization at the "Conservatoire National de Strasbourg, gaining a Soloist Diploma in Marimba and Vibraphone. Throughout his studies he attended various courses and master classes in percussion and contemporary music, seeking fundamental references in the contemporary music scene. In Paris, with Jean Pierre Drouet, he explored repertoire of musical theatre. In 2001, he was awarded with the Academic Merit Prize of the António de Almeida Foundation and in 2008 he was given a Creators Grant by The National Centre for Culture for the project Technicolor, a solo cd  about the world of cinema. He has been a member of Drumming - Percussion Group, since 1999, Oficina Musical soloist  and invited musician of the Remix Ensemble. With these groups or as a soloist, he  premiered over 70 works and recorded part of this repertoire in a total of 15 editions. Particularly noteworthy are collaborations with the following companies: Groovescooter Records- Australia, Cavalli Records- Germany, Anemos-Spain and the Portuguese companies; Numérica, Atelier de Composição and Clean Feed. He gives solo and chamber music performances alongside the most prominent artists, maestros, groups and composers of today, on the most important stages and festivals in Portugal, France, Germany, Belgium, Spain, Italy, Slovenia, Brazil, China and Thailand., South Africa, Argentina, Canadá. Particularly motivated by the enrichment and renewal of the concept of the concert as a whole experience, he frequently forms artistic relationships with other disciplines: Dance, Cinema, Theatre and Literature. 
The projects for the coming season include the launch of two solo recordings, as well as numerous world premieres and appearances on the most important national and international stages. 
Nuno Aroso teaches at the Minho University.

Nuno Aroso plays with Adams Instruments and mallets by Elite Mallets